Tampa's Westshore Interchange
FPIDs: 447107-2, 447107-3,  447107-4
FPIDs 447107-2, -3, -4
Construction Estimate (as of September 2021):  ~$1 billion*
Funded for Construction: Fiscal Years 2024, 2026, 2028
* Present Day Cost 

The reconstruction of Tampa's Westshore Interchange has been a regional priority to improve reliability. The interchange is where economic, employment and entertainment activities converge, leading to traffic congestion that impedes local and regional mobility.

Located on the western edge of Tampa, the Westshore district is an approximate 10 square mile business district that provides access to Bay Area residential neighborhoods, Tampa International Airport, three major interstates, and two HART transit centers.
Westshore Area Statistics
To enable continued economic grow and stability, improvements to Tampa's Westshore Interchange (I-275/ SR 60) are necessary to provide for the existing and projected traffic demand. Florida's Turnpike Enterprise opened express lanes on the Veterans Expressway, which will tie into express lanes to be constructed as part of Tampa's Westshore Interchange project.
Reconnecting Communities
This interchange improvement project also will reconnect roads and neighborhoods.
We're looking for opportunities to facilitate movement both through and within Westshore. FDOT is also reviewing the existing and planned bicycle and pedestrian facilities to improve connections to the Courtney Campbell Causeway Trail from the Westshore area.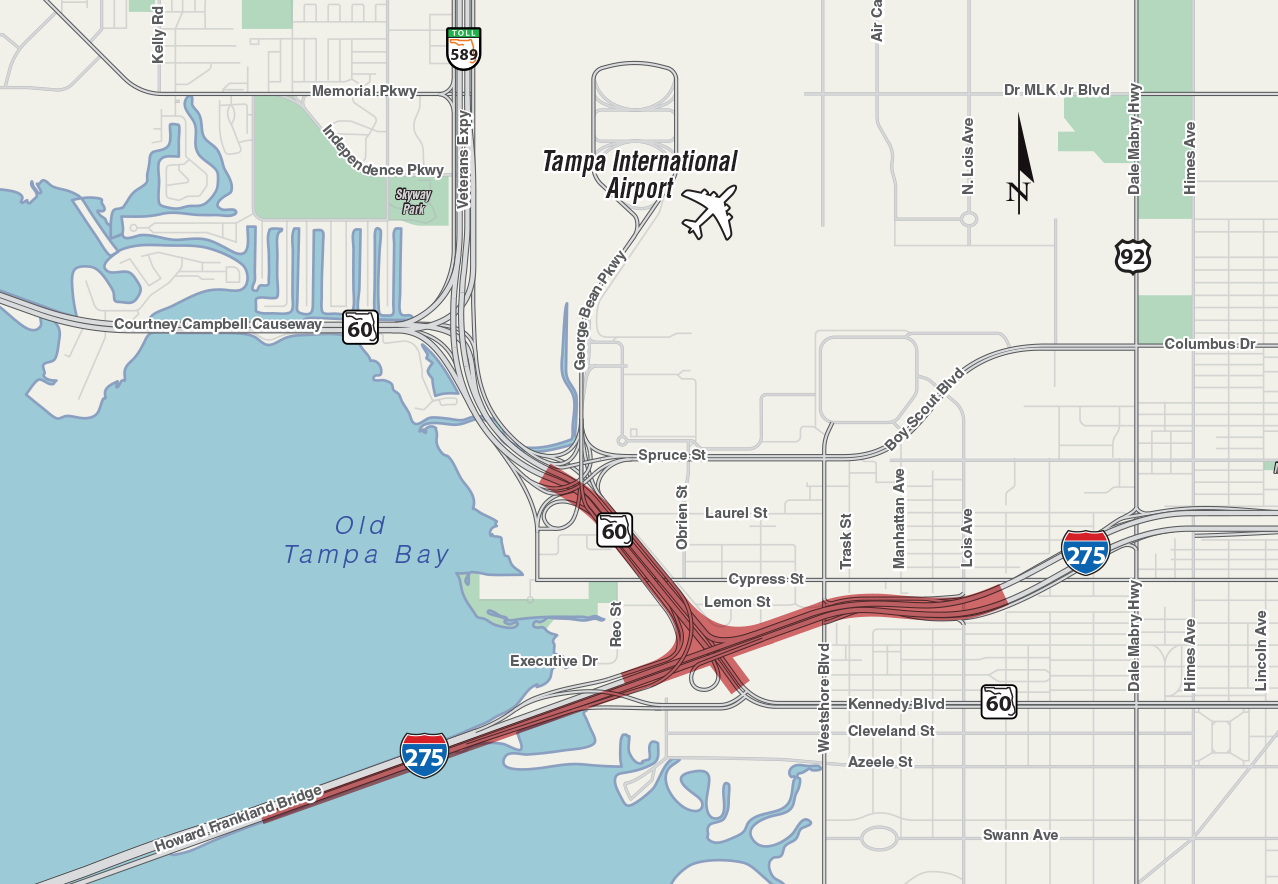 Tampa's Westshore Interchange, the Westshore to Downtown Tampa Corridor, and the Downtown Tampa Interchange projects are all part of a long-standing plan to improve and modernize Tampa's interstate system, originally called the Tampa Interstate Study (TIS). The TIS required the most rigorous evaluation process in transportation planning – an Environmental Impact Statement (EIS). FDOT began theTampa Interstate Study (TIS) Supplemental Environmental Impact Statement (SEIS) in 2017, working with the Federal Highway Administration (FHWA).
FDOT has been engaging with the community to receive input on alternative design concepts for the SEIS and held a public meeting in October 2017 to review the concepts and get community input. FDOT also held a second public workshop in May 2019 to further review proposed alternative options. A public hearing was held in February 2020, and FHWA approved the SEIS in September 2020.
FDOT plans for Tampa's Westshore Interchange to be reconstructed in phases. To view the overall phasing plan and schedule, click here.
To view the concept plans, click here.